Parents
Due to Child Protection procedures, all parents/ visitors must make an appointment to see a member of staff.
Thursday 15th and Friday 16th December
P1, P2 & P3 come to school dressed in their costume. Please send their uniform in a bag so they can change into it after the play.
P4, P5, P6 & P7 bring their costumes to school. They can get changed in school.
Dinner Menu
12th December - 13th January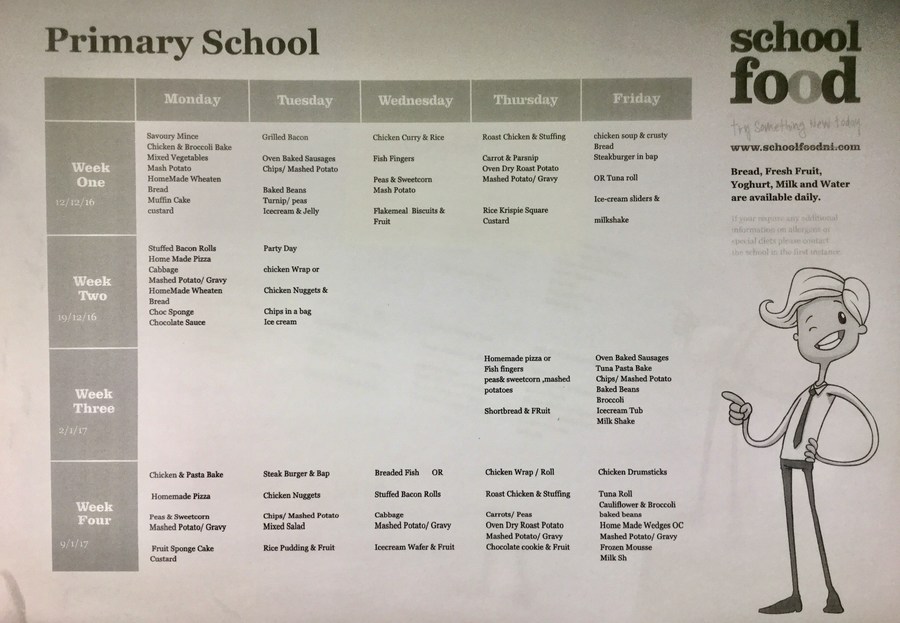 DECEMBER NEWSLETTER SENT HOME TODAY 1/12/16
Christmas dinner is on Wednesday 7th December. Children are to wear their Christmas jumpers that day. Cost of dinner is £2.50
P2/3 Costumes for Christmas play can be bought in most of the supermarkets or Home Bargains. (Except for hedgehogs...Sorry!) If you can borrow one, even better. Please do not go to great expense for a costume.
P4/5 - trip to Bagenals Castle on Thursday 8th December
P6/7 boys to visit St. Colman's College on Monday 12th December
Always keep us up to date with mobile numbers and medical conditions.
ENROLMENT for P1 2017 - Application forms are available from the office. Closing date is Wednesday 11th January 2017
Term 1 ends on Wednesday 21st December @ 11.30am